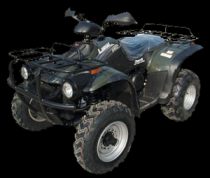 Linhai Rustler 300 4x4 , 4x2 and Sport quad bike specs.

Linhai recently released their 300cc range of quad bikes in south africa, and with some wealing and dealing I managed to get all three the model's spec sheets and some appoximate pricing.

Click on the links below for more details.
Rustler 300 Sport

Rustler 300 4x4 / 4x2
I am currently waiting for confirmation of the above specifications from the Distributors (Smith Power Equipment) and will make changes as required.