Mac Mac Quad Getaway - 3 to 4 March 2007.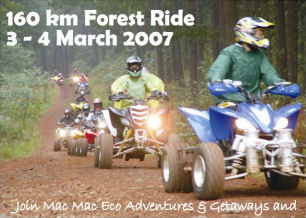 Gilmore Munro from Mac-mac eco adventures & getaways has sent me the following event information.
On 3 March 2007 we have a 160km marked trail which people can ride at their own pace.
The trail will include plantations, patches of indiginous forests, going up Mauchberg (stunning views), go pass Christmas pools, go through Pilgrim's Rest, and more riding on the other side of Pilgrim's.
There will be medics and marshalls on standby.
The cost per quad is R250.00 and R80.00 per passenger.
These fees include a R35.00 voucher for lunch at some of the restuarants in Pilgrim's Rest.
To book please call 013 764 2376 or fax 013 764 3124 or email
If you would like to add your quad bike related event please email the details to me at sulacomcclaw@gmail.com

You can also Subscribe to our quad bike newsletter to get these events delivered directly to your inbox