Mac-Mac Quad Trails.

Coen Vermaak emailed me with some information on the fairly new quad bike trail in the Mac-Mac area.

The Mac Mac Quad Trails is an exciting new adventure for quad bike riders that cover some "off the beaten" trails in the picturesque Mpumalanga Escarpment area.

Most of these trails are off limits to the general public.
But now, for the first time ever, Global Forest Products Pty Ltd approved a sole concession that allows us to take quad bike riders on a guided, eco friendly exploration in one of the rich historical and most beautiful areas of South Africa.

The quad trails include spectacular mountain trails, stunning views, compellingly beautiful waterfalls, crystal clear rivers, hidden valleys and pristene forests.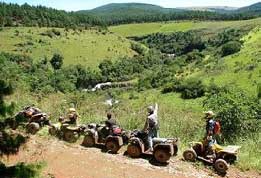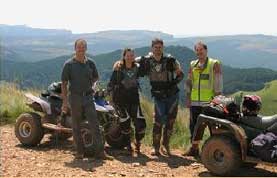 An example of a quad trail out-ride.

We come together at Mac Mac Forest Retreat (halfway between Sabie and Graskop).

After a briefing we travel through plantations on the way to Burgers Pass (the original route used to transport provisions for Pilgrim's Rest).

The Burger's Pass road takes us through more plantations and some patches of indigenous forests.

We then turn off the Burger's Pass road and travel towards Mauchberg.

On the climb to the top of Mauchberg we enjoy some memorable views of the immediate area.

We stop at the top of Mauchberg to enjoy one of the spectacular views over the Mpumalanga Escarpment and Lowveld. On a clear day places like Sabie, Graskop, God's Window, Spitskop, Bakenskop, Mariepskop, the gold mines outside Pilgrim's Rest, and the Kruger National Park will be pointed out.

We then travel down to the scenic In De Diepte valley. Where we follow more scenic trails on the way to the beautiful Christmas Pools and waterfalls.

After a stop at the falls we travel pass the Grootfontein forestry station and travel through more scenic areas on our way to Mac Mac Forest Retreat.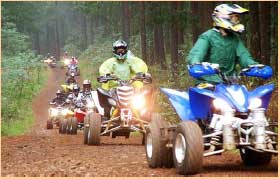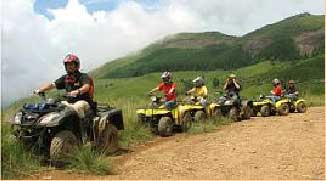 Other areas that we travel to.

From the Grootfontein forestry station, we travel through some more plantation and scenic areas towards Pilgrim's Rest.

We pass the gold mines and pass through Pilgrim's Rest and Schoonplaas. We travel on the edge of the forestry areas and enjoy some spectacular views over the Vaalhoek road areas.

We travel back to Pilgrim's Rest. In Pilgrim's Rest we stop at one of the restaurants for a coffee, soup, or a lunch and mingle a bit with the locals.

Thereafter we travel back to Mac Mac Forest Retreat via some more scenic forestry trails.
Type of trails: The focus is not on obstacles or racing, but rather on a guided scenic, historical and eco-friendly tour.


Distances: Distances may vary depending on the duration of the trip, the speed we travel at, harvesting, trail and weather conditions. The approximate distance per day is 20 – 130km.


Other options: Let us now what you would like to experience and we will work out a tour accordingly.


Catering: Any meals are optional at an additional fee (organize this before arrival). Otherwise it is self-catering.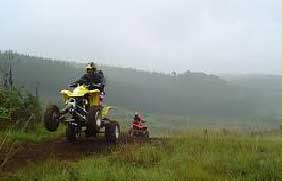 Mac Mac Quad Trails Weekend Packages.

The "Accommodation Packages" is not valid over peak season and long weekend periods. The "Accommodation Packages" is also subject to accommodation availability. These packages are only available for people with their own quads (no rentals).

Our Weekend Packages:

You arrive at Mac Mac Forest Retreat (halfway between Sabie and Graskop) during the Friday afternoon.
Upon arrival you book in, organise yourself in the self-catering houses or organise your tent (your own camping gear) and relax.

We have a small cosy pub on the premises which is an excellent way to start the weekend.

Supper in the evenings is optional.

The next morning we meet at 08:00am. After a briefing and signing of the indemnities, we leave on the quads for a 5 – 6 hour ride (See "An example of a ride").

On Return to Mac Mac, we all enjoy an ice cold "refreshment".
The rest of the day is spent relaxing in the pub, braaing, or sleeping for the more exhausted ones.

Sunday morning we meet at 09:00am and leave for a 2 – 3 hour ride.
After the ride and "refreshments", we say good bye to the new friends we made.

For more information, bookings or rates contact Coen Vermaak on Tel: (+2713) 764 2376, Cell: +2772 629 3876
or email him here

Mac Mac Forest Retreat is approximately 350km from Pretoria and 400km from Johannesburg. Mac Mac Forest Retreat is approximately 350km from Pretoria and 400km from Johannesburg.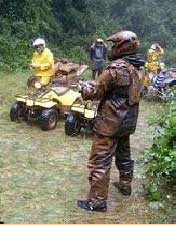 A previous ride:

On Saturday, 29 October 2005 we had the Family Adventure group for a ride. Because they were a large group (+- 200 quads), we marked out a 130km route for them. They were divided into groups which then traveled at their own pace. Following is a part of the article that was written for the Dirt & Quad magazine.

2005 forest ride. Graskop. Mpumalanga. It was John Parson's first trip with the Family Adventures team. He shares his experiences:

Imagine, if you will, some of the most pristine forest riding that you have ever seen.

Crystal clear rivers which run along to become spectacular waterfalls. Mountains, valleys, narrow mountain trails perched precariously on the edge of sheer drops…

This will give you some idea of the riding in beautiful Mpumalanga.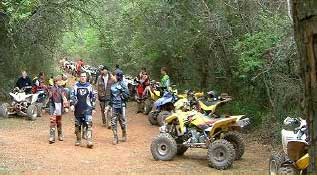 It has taken nearly two years for forestry to allow quads and dirt bikes back into the forests, but thanks to the tireless efforts of one Mr. Koen Vermaak and his good friend Gilmore, forestry allowed the Family Adventures team to enjoy the terrain on a rather cold, wet and rainy weekend.

Cold? Wet? Rainy? – You bet, but the weather did nothing to diminish the high spirits of the lots of riders who took part in one of the most spectacular events on the off-road calendar.

Saturday dawned, cold, wet and misty. I half expected most of the riders to stay in bed, but when I arrived at the start point just on 9am, I was surprised to find a very eager bunch waiting for the kickoff.

We were escorted through town – once again, thanks to the local authorities, imagine a whole troop of quads and bikes roaring along. Spectator value. 100 percent. Rider input. Sheer gooseflesh.

On the outskirts of town they let us go, we were divided into family groups, spaced out and sent on our way.
I figured that I was one of the faster riders in the pack, so I tried to get as close to the front as I could.

Unfortunately I forgot that rain and fog also equals lots of mud, which equals lots of slipperiness, which equaled a fairly spectacular crash on almost the first corner. And the quad guys laughed.

I meekly picked up my slightly battered KTM and tail between my legs, continued at a more sedate pace for the rest of the day. And I'm pretty glad that I did, you get to see a whole lot more. The route led past the famous forest falls, out to In Die Diepte, Up to the very top of the Mauchberg Mountains – spectacular, beautiful, what a ride.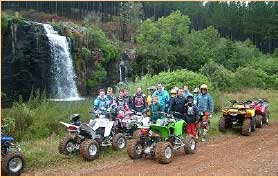 Lunch was at Christmas pools, A lapa in the middle of nowhere with a spectacular waterfall plunging into a deep pool - pity that the weather was so chilly – I would have loved to take a swim – maybe next time.

From the lunch spot the trail took us into the town of Pilgrims Rest. Imagine the looks of astonishment that we got from the tourists and road bike riders as a horde of dirty, muddy offroaders pulled in to all of the coffee shops and restaurants.

Once again I was surprised to see that the local authorities did not interfere and it was nice to note that the riders took care not to be a nuisance.

From Pilgrims it was back to Graskop along some breathtaking cliffside roads – I hooked up with a family group and we plodded our way back to camp.

John

For more information, bookings or rates contact Coen Vermaak on Tel: (+2713) 764 2376, Cell: +2772 629 3876
or email him here